Jane In the Media
News
New Cally's Way excerpt published by KawarthaNOW. Sample the historical story here.
November 15 was a rewarding day for Cally's Way at England's Folkestone Book Festival. After a morning workshop with aspiring book writers, I joined host Stewart Ross and fellow novelist Simon Gough for a stimulating presentation and discussion on the role of the Muses in our stories. Thanks to the festival for having me, and to Canada Council for getting me there! 
Thank you, Trent University's Traill College Writers' Reading Series, for a wonderful Cally's Way reading October 14. A packed house is every writer's dream!
Cally's Way reached #2 on Edmonton's fiction bestseller list in September! Great readings at Audrey's Books and the Royal Glenora Club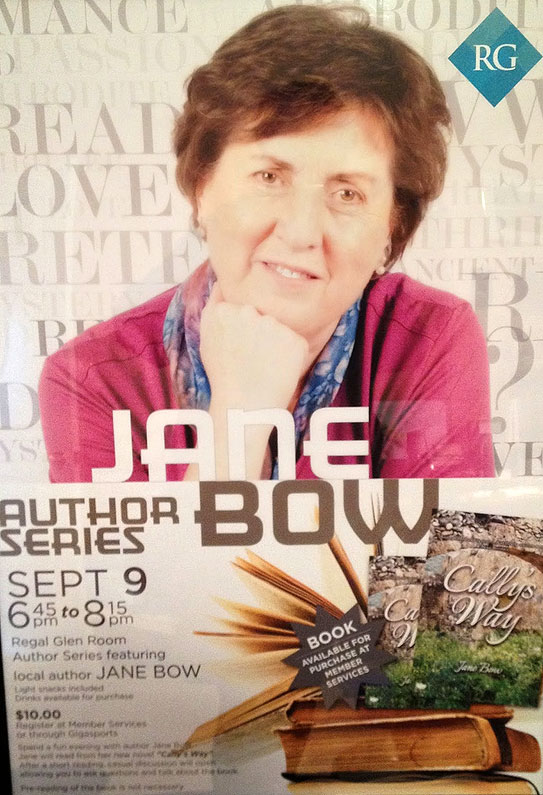 are responsible. Thank you, Writers' Union of Canada for funding.
New interview has been posted on Leaving Cairo at: http://bit.ly/VXvY1L
This guest blog tells you what happened when my daughter and I went to live in Crete for six weeks. She was seventeen. http://awriterofhistory.com/ 
An excerpt from Callisto's World War II part of Cally's Way is posted here.

What made the writer behind the novel? Click here for an interview with The Arts & Entertainment Magazine.
Kirkus editors have chosen to feature their Cally's Way reviews in April's Kirkus Review. Read the review here.

Peterborough Examiner wrote an article about Cally's Way. Read it here.
Reviews
 Praise for Cally's Way:
"A skillfully written novel, romantic yet tough-minded, in a beautiful setting…"

Kirkus Review

    Read it here.
"Jane's love for Crete, its people and customs shines through and draws the reader in… The questions posed by Cally's journey of self discovery are ones that any reader will be able to connect with. This book is highly recommended…" 
Rethymnon Bugle
Read full review here.
What Other Critics Say About Cally's Way
Hilary Boyd, bestselling U.K. author of Thursdays In The Park
Bow's beautifully written tale evokes the scent of the wild thyme on the Cretian hills, the taste of a freshly picked orange, the sweetness of golden honey. Cally, like us, is seduced by it all and awakens to the possibility of a new way to live. But at the same time as we're lulled by the warm Cretian sun on our face, we are held in suspense by the island's cruel past and Cally's grim family secret, which spike the idyllic landscape with page-turning tension.I loved Cally's Way, not just the fascinating history and stunning island backdrop, but also the well-drawn, endearing characters of Cally, the beautiful but troubled Oliver and Wrecks, his dog. An engaging and compelling read.
Robert J. Begiebing, award-winning novelist and Professor of English Emeritus, Southern New Hampshire University
Told in spirited, lyrical prose, the story of Callisto (Cally) Armstrong's quest for her family's hidden past in Greece and Crete during World War II is also the story of a young woman's personal quest for an authentic identity and way to live. Adeptly weaving the intergenerational themes and narratives together, author Jane Bow gives readers an engaging and deeply poignant picture of the Greek and Cretan resistance under Nazi occupation, but she also gives her readers an equally engaging story of a young woman's transformation through hard-won knowledge and love. Cally's Way resonates deeply, moreover, with surprising connections among the violent and tragic occupations of the Second World War, the post-war anti-Communist paranoia in the West, and our current occupations and the insurgencies they engender in the Middle East. A satisfying and revelatory read.