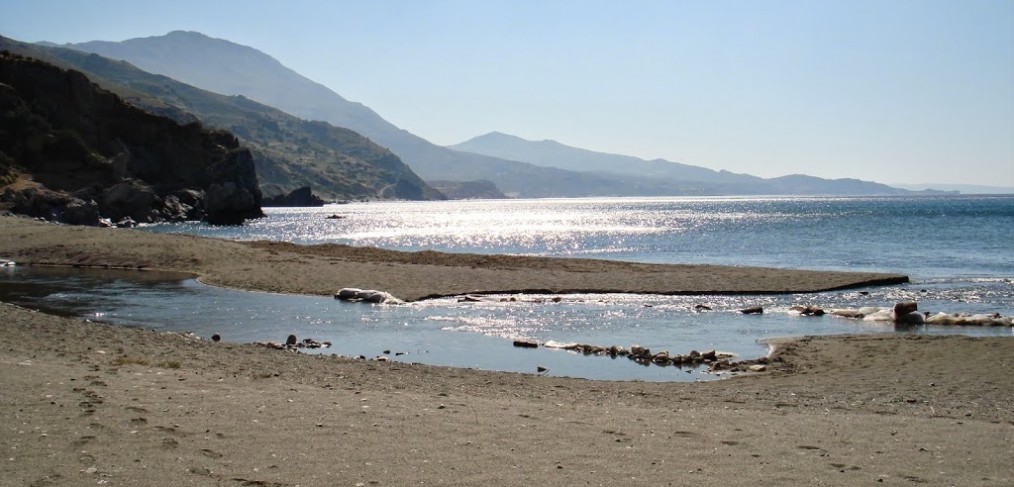 Travelling in Crete: a novelist's thoughts (1)
One of the reasons it takes 12 years to write a novel (Cally's Way) is that you fall in love with the place where it is set, in my case Crete. If you travel there this summer, go off the beaten track. And prepare to come back changed.
Crete's south coast, a land of myth and history
The first time I went to Crete, in 2001, I knew nothing, except that:
a) it is the southern–most Greek island and therefore, hopefully, was warm in March, and
b) it was home to the peaceful pre-Greek Minoan culture that worshipped the Great Goddess and produced world renown statues of her, alabaster pottery and gold jewellery.
My teenaged daughter and I rented a mountainside apartment overlooking the sea in Myrthios, away from tourist resorts along the main, north coast highway. In the mornings I holed up in the kitchen, meditating then making notes on what I was reading, thinking, seeing, feeling, with no idea why.
My daughter sat on the balcony working on her correspondence courses or reading The Cretan Runner, a page-turner of a war memoir by George Psychoundakis, who was a shepherd until World War II, when hundreds of German paratroopers floated down out of the sky. During their brutal occupation of the island, the Cretans mounted a powerful, imaginative Resistance, working with British commandos hiding in the mountains.
In the afternoons we drove our tiny Fiat up hair-raising, unguard-railed mountain roads, looking for the villages Psychoundakis described, imagining the stories he told of unnamed, unknown heroes, some of them boys and girls.
Sometimes we explored ruined Minoan palaces. King Minos (who owned the mythical Minotaur) built his famous palace at Knossos, but it's always clogged with tourist buses. I much prefer Phaistos, near the south coast, where the first linear writing was discovered on the Phaistos disk. It is so easy to imagine the famous bull jumping spectacles there, in a stone courtyard still clearly preserved 4,000 years later.
The ancient stone block archive at Phaistos
If the day was hot, we explored beaches along the south coast, swimming in the Libyan Sea beside the 14th Century Venetian fort at Frangocostello, or at Skinaria, a beach tucked away behind the headlands that nudists (now prohibited) favoured, or at fabulous, palm studded Preveli, once known as Limni Beach, where two daring submarine rescues of Allied troops took place. (See Cally's Way.)
Preveli beach from the headland above.
I spoke no Greek but for some reason, smelling the sea air and the herbs on the mountainsides, watching the clouds over Plakias Bay, listening to the staccato rise and fall of the language in the villages, nodding hello to black-clad women of my age with whom I had nothing in common, I felt utterly, viscerally at home.
Why? Was it because my formative years were spent in Spain, at the other end of the Mediterranean?
Too thin a reason, by itself.
Was it because the Greek myths, many of which were born on this island, and the Greek language lie at the root of our Western civilization? Psychology, archeology, logic, democracy — so many of our fundamental social concepts are defined by Greek words.
No. If this was the reason, why doesn't every English speaking Western tourist feel at home here?
An ancient olive tree lives on the mountainside
Was it something less nameable then? Something to do with genetic predisposition or re-incarnation?
Hard to conjure that, but when I was a child in Spain my father used to take me to look at the paintings in Madrid's Prado. My favourite artist, at age nine, was El Greco. Not until I went to Crete did I find out that El Greco was Cretan.
Life itself is a miracle, so who knows what the full answer is. What I do know is that:
a) the great power of love features in all my novels,
b) I love this island, its people, its rock, its air, its sea, and
c) love and creativity are two faces of the same force.
Flowers in a Cretan ditch
One morning, that first year in Crete, the World War II part of Cally's Way dropped into my head fully formed. I have been returning to the island to write every year since then.
And now, published this spring, the book's characters have come to life in the very place where they were born! Tourists from all over Europe can find Cally's Way at Carol's Workshop in Myrthios. Happy me!
Cally's Way now on sale at Carol's Workshop.
What makes a place feel like home? I'd love to hear your thoughts. Comment below, or on Facebook at Jane Bow's Novels, or on Twitter @JaneBow2.
Thanks for visiting me here,
Jane