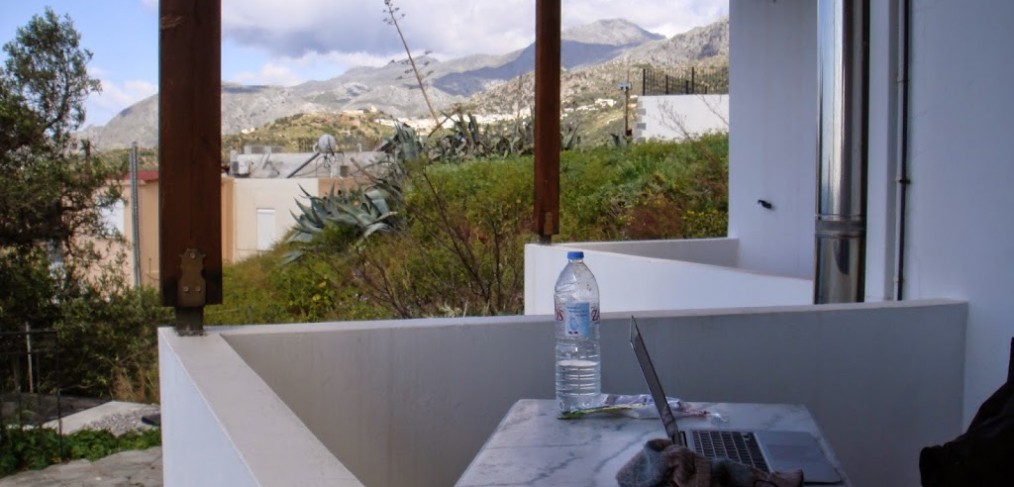 Travelling in Crete – The Food!
One morning, while I was writing Cally's Way on my mountainside terrace, an old woman wearing a kerchief stopped by on her way to the steep vacant lot next door, where herbs and artichokes grow in profusion. Pulling a sprig of fennel out of a cloth pouch attached to her apron, she smiled.
"Very good with potatoes." 

I watched her spend the next half hour climbing, bending, squatting, reaching and twisting as she filled her bag with fresh greenery before walking back up the mountainside to prepare dinner. She is well into her eighties, a typical Cretan grandma.

Artichokes merit their own trip to the vacant lot. Cretans put them in casseroles but I can't wait that long. Boil, then strip and dip is my method. The impossibly lush heart of this tough and prickly mountain plant needs only lemon juice or salted and peppered olive oil.
An artichoke from next door
At the bottom of the mountain fishermen bring their daily catches to the Plakias fish shop. You can eat fresh sea bream, sardines and other lovely fish, or squid, sometimes cuttlefish.  Or, why not buy a newspaper cornet of shrimps? Poached for a couple of minutes, they still hold the flavour of the sea. 

Local lettuce, tomatoes, onions, or a bag of horta (a mixture of greens) and a bottle of local Cretan olive oil are available anywhere. Add a $6-bottle of wine from Sitia, on Crete's north coast, and Presto, you have one of the tastiest, healthiest, most economical dinners in the world!
Cuttlefish stew – Yum!
Then there is the meat. Lambs gambol about on the mountainsides, and a few days before Easter shotgun blasts make clear the connection between raising and eating animals. Roasting lamb on an outdoor spit is a Greek tradition that goes back thousands of years.

Why is lamb on a spit so good, I asked my friend Nikos, who ran Nikos Souvlaki in Plakias for many years.

"Because, where was this lamb three weeks ago? Out on the mountainside eating oregano, thyme, rosemary!"  (Those who have read my new novel, Cally's Way, will recognise this interchange.)

One of the best places to find this meal is at Le Vieux Moulin Taverna in the inland town of Agyroupoli. 

If you want a gastronomic treat and have a few extra Euros, drive up to Milia, high in the western White Mountains. A 16th Century village, Milia was built as a summer pasturing place and then abandoned until World War II, when it  served as a hiding place for its families during the Germans' brutal occupation of Crete. After the war it was abandoned again until two of its owner families rebuilt the village as a totally organic, locally sustainable mountain resort. A two-minute video here will give you a tour.
Milia in spring, from a hiking trail
Milia features in my novel Cally's Way. How could it not, when the book intertwines the story of Cally, a young woman trying to find a way to make a life in a world that promises very little security, with that of her grandmother Callisto, a runner in the Cretan Resistance, who lived in a high mountain village? A story summary and reviews are here. Read a sample chapter here (click on cover.)

And happy eating, wherever you are!
Why not share your experiences by commenting below?
Thanks for visiting,
Jane